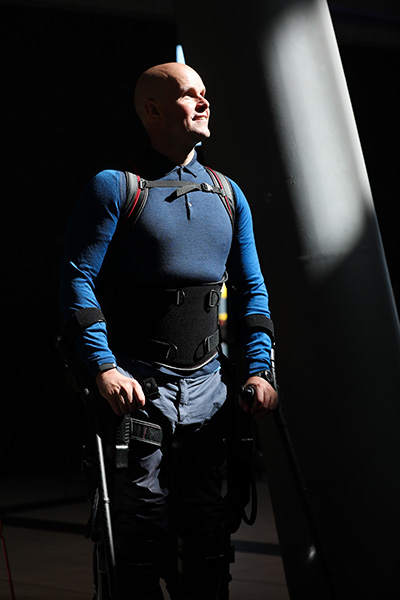 When Mark Pollock broke his back in 2010, he discovered that paralysis strikes at the very heart of what it means to be human. It turned him from his upright, running, jumping form into a seated compromise of himself.
He learned that it's not just the lack of feeling and movement, it also interferes with the body's internal systems that are designed to keep people alive. Multiple infections, neuropathic pain and uncontrollable spasms are common. These are the things that exhaust even the most determined. And, along with fundamentally impacting quality of life, it comes with €4 million average lifetime cost of care, there are huge barriers to getting back to work, and premature death is inevitable.
As Mark lay in hospital for 16 months, digesting the impact of his accident, he was physically and mentally broken. Yet, in the midst of the uncertainty, he began to turn his attention to curing paralysis. When he was released from hospital, he committed to donating his paralysed body to experimental research at the intersection where humans and technology collide, initially in aggressive physical therapy, robotic exoskeletons and trans-cutaneous spinal stimulation.
Since 2011, Mark and his team have been involved in catalysing collaborations that are now valued at over €100 million. These include co-creating international neuro-modulation and robotics research studies; building an exoskeleton rehabilitation programme; facilitating multi-stakeholder relationships towards the commercialisation of academic research; and working alongside Wings for Life Spinal Research Foundation and the Christopher and Dana Reeve Foundation.
Combining that experience with initiatives with the World Economic Forum's Young Global Leaders and work carried out in partnership with The Dock, Accenture's flagship R&D and Global Innovation Centre, our research has identified 4 primary building blocks to create the conditions for collaboration and mitigate against systemic fragmentation.
Mission Orientated Framing: Establishing a shared mission that multiple parties can sign up to is essential for creating the conditions for collaboration. It requires concrete, measurable and achievable outcomes.
Embodying Collaborative Leadership: Creating a culture of collaboration needs people to lead by example. It demands leaders being visibly and tangibly open to collaboration.
Incentivising Collaborative Behaviour: Incentives beyond funding are required to drive collaborative behaviours including rewards for sharing scientific data and communicating openly. It involves recognising and rewarding collaboration.
Active Governance: Establishing proactive and appropriate levels of oversight is fundamental to allow collaborative projects to deliver. It requires robust structures to help build credibility and trust.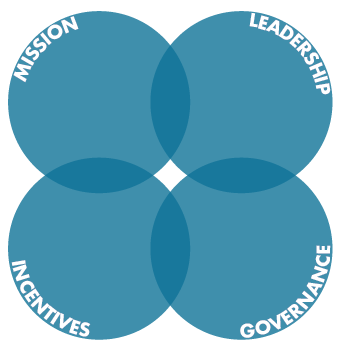 Charity Trustees
Mark Pollock, Chairman
Unbroken by blindness in 1998, Mark became an adventure athlete competing in ultra- endurance races across deserts, mountains, and the polar ice caps including being the first blind person to race to the South Pole. He also won silver and bronze medals for rowing at the Commonwealth Games and set up a motivational speaking business.
In 2010 a fall from a second story window nearly killed him. Mark broke his back and the damage to his spinal cord left him paralysed. Now he is on a new expedition, this time exploring the intersection where humans and technology collide to find a cure for paralysis for him and millions of other paralysed people around the world.
Mark has been selected by the World Economic Forum as a Young Global Leader and is a former member of the Global Futures Council on Human Enhancement. He is a UBS Global Visionary, is on the Board of the Christopher and Dana Reeve Foundation (USA) and is a Wings for Life Ambassador (Europe). In addition, Mark is the subject of the acclaimed documentaries 'Blind Man Walking' and 'Unbreakable – The Mark Pollock Story', he has been awarded honorary doctorates by The Royal College of Surgeons in Ireland and also from Queens University Belfast.
Siobhán Gallagher, Trustee
Siobhán Gallagher is a Director in The Ireland Funds, based in Dublin. The Ireland Funds is a global philanthropic network established to promote and support peace, culture, education and community development throughout the island of Ireland, and Irish-related causes around the world. In addition to her role in Dublin, Siobhán manages the worldwide Young Leaders, a global programme aimed at nurturing the next generation of donors globally.
Siobhán studied law in UCD and is a qualified solicitor. Before moving to The Ireland Funds in 2015, Siobhán practiced as a solicitor in a large Irish firm for over eight years. Recently, Siobhán completed a MSc in Management in UCD Michael Smurfit Graduate Business School.
Karl Richardson, Trustee
Karl Richardson is a communications and public affairs professional with over 20 years-experience working with and advising large corporations, NGO's and public service bodies. A native of Dublin, Karl is a graduate of both Trinity College Dublin and Technical University Dublin and began a successful career in the Public Relations industry in 2000 and has extensive communications and public affairs expertise in both in-house and agency roles across the consumer, healthcare, finance, sport, telecoms and non-profit sectors.
He was appointed as the first Head of Communications of the Irish Rugby Football Union in 2004 to develop and implement the sporting bodies communications strategy, before bringing his experience to the not for profit sector and is now working within the energy sector, delivering communications campaigns and legislative engagement for energy in Ireland and with EU member states.

Collaborative Cures is a registered charity. Charities Regulatory Authority No. 20205817.
Company Registration No. 673629 (Republic of Ireland).